DAC Amplifier with IR Remote Controller
Input:Optical Audio * 1
Coaxial Audio * 1
Output: R/L Stereo Audio * 1
Headphone 3.5mm Jack * 1
This Digital to Analog Audio Converter is specially designed for either home or professional audio signal switching. It converts Coaxial or Toslink digital audio signals into analog L/R & 3.5mm headphoen audio signal.
This Digital to Analog Converter with IR wireless remote control, easily adjust volume/ choose coaxial or toslink input/ Mute/Power ON or OFF by using the IR wireless remote, no need to leave the comfortable touch.
Supports 192kHz, 24Bit sampling rate.
【Digital to Analog Audio Converter】– It Converts Coaxial/Toslink/Optical to Analog L/R Audio With 3.5mm Audio Output, ( NOT capable of being reversed); It Can be Connected to The Headphone, Headphone Amplifier

【IR Remote Control】– With IR Remote control, You Can Easily Adjust Volume/Choose Coaxial or Toslink Input/Mute/Power ON or OFF, Don't Need to Leave The Comfortable Sofa. (In Order to Received Signal Better, Please Aim at The Infrared IR Indicator on The Converter when Using Remote Control), it can increase or decrease 40db based on the original output volume (without headphone connected)

【Supports 2 Channel LPCM or PCM Digital Audio Signal】– Some TV May Have PCM/LPCM as the Default Setting. Otherwise, Please Set the PCM or LPCM Setting as Below: Setting–Sound–Audio Format, such as Samsung TV, LG TV. (Not Support Dolby, DTS, or Other 5.1 Channel Surround Sound Signals)

【Supports Mainstream Digital Optical/Coaxial Input】– Provides Electromagnetic-Noise-Free Transmission, Supports Sampling Rate At 32, 44.1, 48, 96 And 192khz, And 24-Bit SPDIF Incoming Bit Stream to Left And Right Channels

① : Power Connect Micro-USB with power adapter.
② : Toslink Optical/Toslink® digital audio input port.
③ : Coaxial Coaxial digital audio input port.
④ : L/R Analog L/R stereo audio output.
⑤ : Headphones 3.5mm stereo audio output jack.

⑥: IR Sensor.
⑦: Mute Press the mute, the mute light will be bright.
⑧: Input switch Select the optical or coaxial input audio source, which light will be bright.
⑨: VOL Adjust Volume adjustment has 20 levels, the lights will always bright when the volume is adjusted to the Max.or the Min.
⑩: Power When turn off the converter, other lights are off but the power light stays on.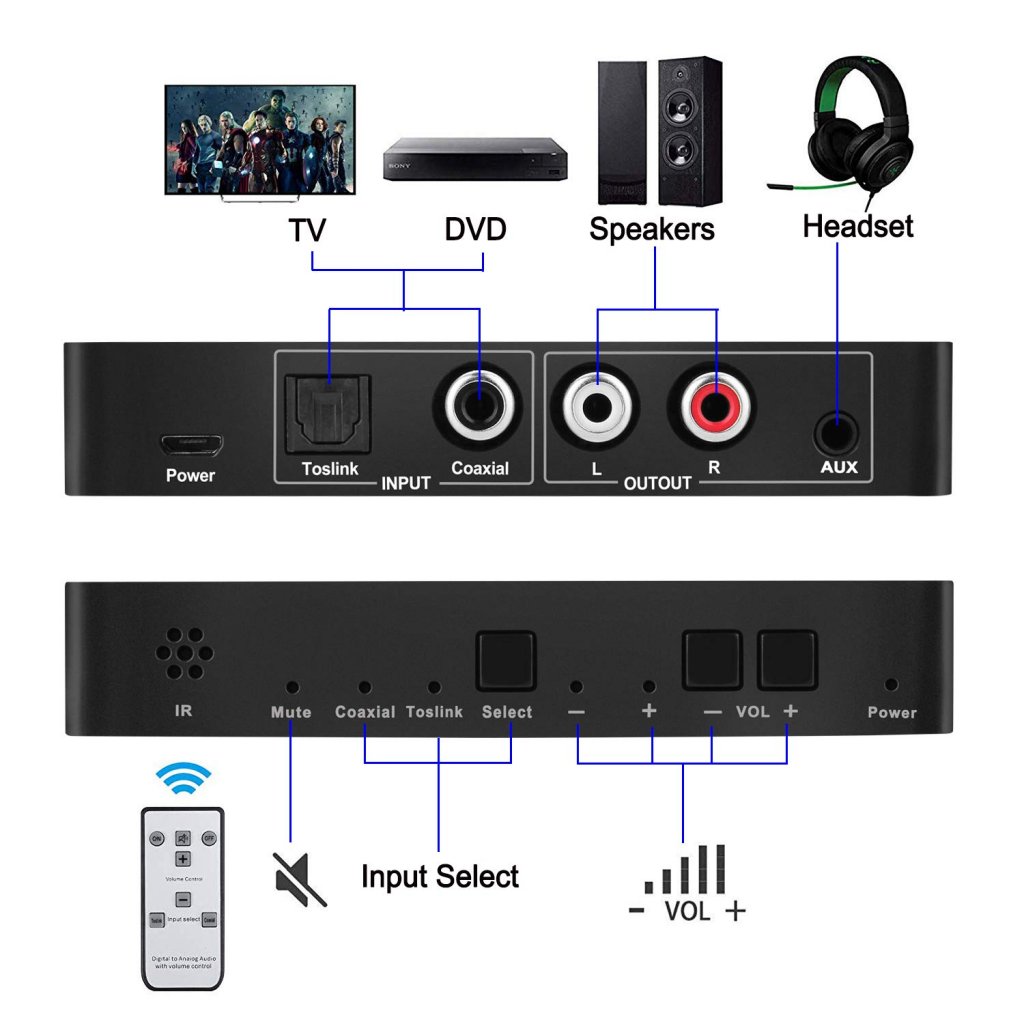 Signal Input/ Output
Input
Coaxial or Toslink digital audio
Output
L/R audio
Connectors
Input connector
Toslink, 1*Cinch (Coaxial)
Output connector
2*Cinch(R/L) and AUX
Sampling Rate
32, 44.1, 48, 96 and 192KHz
Bit rate
24 resolution
Dimensions
(L*W*H)
108(L)x64(W)x20(T)
Weight
90g
Environmental Specifications
Operating Temperature
0℃ to 70℃
Operating Humidity
10% to 85% RH
(no condensation)
Storage Temperature
-10℃ to + 80℃
Storage Humidity 5%to 90% RH (no condensation)
Power Requirements
External Power Supply
Via USB cable
Power Consumption
Max=5W